To share your story about Legion Riders, visit Legiontown U.S.A.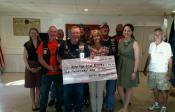 The American Legion Riders from Black River (N.Y.) Post 673 have again done another ride which serves the community, which covers Watertown, Fort Drum, and Jefferson County. Our rides for..
A 'bucket list' ride to Sturgis by three members of ALR Chapter 31 out of Salinas, Calif., was readily adapted to a tour of duty in an effort to raise..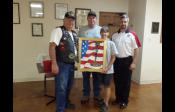 The Gretna, Neb., American Legion Riders of Chapter 216 had a fundraiser where the money will be used for the Legacy Fund and local charities. This money was raised by..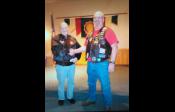 American Legion Riders of District 7, Chapter 543, Red Lion, Pa., recognized 75-year-old Donald Bradley as Rider of the Year for 2015 at the February meeting. Bradley is an active..
I began riding in 1959 while in the Air Force serving in central France. Within three and a half months I had broken bones in my right foot and..
The American Legion Riders of Post 17 of DuBois, Pa., will make its annual donation to the Children's Miracle Network this coming June. Each year for the past several years..
Pages